v0.13:Book Stand
From Mystcraft
This article is about the current version of Mystcraft.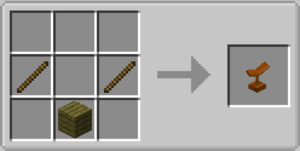 The Book Stand is a block used to hold Linking Books and Descriptive Books to keep them from degrading.
Linking and Descriptive Books can be opened by right-clicking while holding one in the Player's hand. The Age the Book links to can be entered by clicking on the Linking Panel inside the book, however, the book will drop from the Player's inventory when they teleport. As a book lays on the ground, it will slowly accumulate damage that cannot be repaired. This can be avoided by placing the book inside a Book Stand. The Book Stand can be right-clicked with a book to place the book inside, and an occupied Book Stand can be right-clicked to open the book to click the Linking Panel.